---
Staying At Home Doesn't Mean You Can't Brighten Up Your Day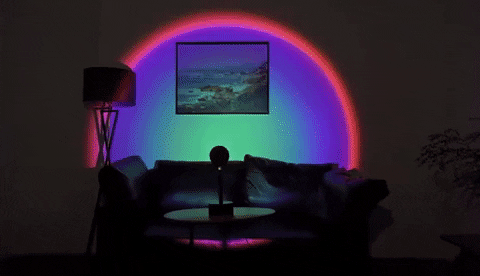 H I G H L I G H T S 
✨ Fantastic background lighting to create some mesmerizing photos
✨ Provides a warm and charming ambience - perfect for lounging
✨ Ideal housewarming gift for those who enjoy the summer aesthetic
✨ Adjustable headlamp allows wall or ceiling light projection
D E S C R I P T I O N
Sunsets are romantic, inspiring and Instagram-able. So we've made it possible to enjoy the brilliance of a cosy sunset at any time of the day with our sunset projection lamp.
It creates a living space you love to lounge in. When you are caught up in the natural beauty of a sunset, you rid yourself of any distractions and feel higher levels of satisfaction and gratitude for what's happening in front of you.
Whether it's for a romantic display or a unique glow, the eternal sunset projection lamp is sure to exceed your expectations. Amaze your guests and friends as they walk into your home.
Don't forget that you can take some amazing photos with these lights too! It's loved by many celebrities and influencers such as Kendall Jenner & BLACKPINK Rose!
S P E C I F I C A T I O N
Size: 25*12cm
Product weight: 400g
Material: Aluminum 
Voltage: DC5V
Operates: USB (1.5m cable length)