---
Illuminating Your Room & Heart 🌹❤️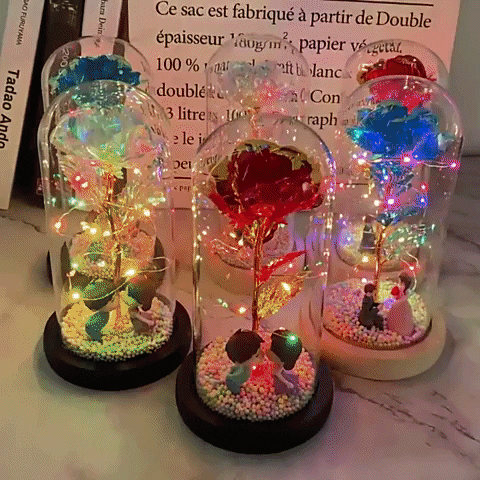 H I G H L I G H T S
✨ Beautiful Decor -  This Eternal Rose Dome Lamp pays tribute to the beauty and the beast. Inside the clear dome is one enchanted rose accompanied by beautiful lights that spiral around its golden/natural long stem.
✨ Long Life Span - Compared to a real rose, this rose will still convey your esteem and feelings for your loved ones but the difference is your love and gratitude will be eternal.
✨ Battery Powered - Supports 3 x AAA batteries.
✨ Perfect Gift Choice - The Eternal Rose Dome Lamp is a fantastic gift for your partner and mother! Make their Valentines Day or Mothers Day a special one. 
D E S C R I P T I O N
The Eternal Rose Dome Lamp represents more than just eternal love, it represents a constant reminder to your partner of the love and bond you share with one another. This definitely beats the cliche rose that every single girl is accustomed to, so surprise her with a gift that she won't ever need to throw out!
The Eternal Rose Dome Lamp has a naturalistic design that will never fade, never perish, and can be preserved for a lifetime.  Your partner will love knowing your commitment and security are ever-lasting.

In addition, its LED string light is made with high quality bendable and waterproof copper wire, making it as personalized as you like. The lights will beautifully refract on a golden covered/natural long stem and illuminate your room. 

A great gift for anyone but it's a greater gift to those who want to symbolize their forever love.
S P E C I F I C A T I O N
Material: Glass dome, Pine wooden bottom, Flannelette Rose
Powered By: 3 x AAA Battery
Product Size: 22 x 11.4cm/8.7x4.5inch
Package Include: 1 x Eternal Rose Flower Lamp